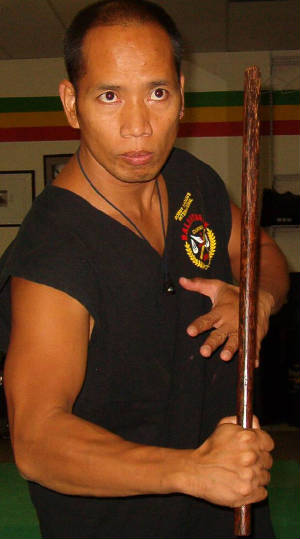 Guro Bobby Ladra
Basic Instructor High Level 1

For the past 25 years, Martial Arts has been a way of life for me. I've developed my skills over the years through continuous training, teaching and competing with other minded martial artists. I've had the honor and privilege to learn host, and partner with some of the top experts of Kombative Styles of the Pacific Islanders: Grand Master Ramiro U. Estalilla, Jr., Ama Guro Raffy Pambuan, Grand Master Baltazar "BO" Sayoc, Tuhon Chris Sayoc, Tuhon Felix Cortes, the late Grand Masters Edgar Sulite, Remy Presas, Suro Mike Inay, & Maestro Igme Nillas (P.I.), Guro Dan Inosanto, and Sifu Burton Richardson. Sharing knowledge and skills continues to give me great pleasure.
Who is Guro Bobby Ladra?

DOB: November 26, 1962
POB: Batangas, Philippine Islands


Words of Inspiration

"Keep the Arts Aflame" by dedication, determination and commitment. Consistant training and open-mindedness to new ideas and styles is what will keep this art alive for the new generation.
Personal / Professional Goals

:

I am currently working towards completion of my certification in teaching the Balintawak Arnis Cuentada System through personalized training with GM Bobby Taboada. I intend to continue promoting Filipino Martial Arts seminars to expose other students to the exciting, rich history of the Philippine Islands. This should give them a real appreciation and understanding of this OLD, yet NEW Martial Art Style!